EntreLeadership by Dave Ramsey | Book Review
Disclosure: This post may contain some affiliate links. This means if you click on a link and purchase the item, I will receive an affiliate commission. Regardless, I only recommend products or services I use personally and believe will add value to my readers. Thanks for your support! See my disclosure policy Here.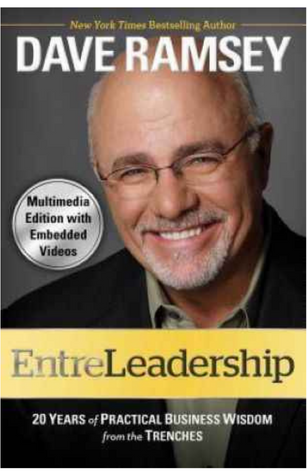 EntreLeadership: 20 Years of Practical Business Wisdom from the Trenches
by
Dave Ramsey
Published by
Howard Books
,
Ramsey Press
on September 20, 2011
Genres:
Business
,
Finance
,
Nonfiction
Pages:
306

Goodreads
Bookhype
This book will help you to decide how to run your business and everything you ever wanted to know about building and growing a business - but didn't know who to ask. Dave has figured out the recipe for managing business finances and his lessons are very invaluable. It is an incredibly relevant, useful book about leadership, management, and entrepreneurship. I consider it super foundational and worth reading.
EntreLeadership: 20 Years of Practical Business Wisdom from the Trenches
Book Review for EntreLeadership by Dave Ramsey
First, let me say if you have been following my blog concerning books I have changed the way I am doing them. As of right now, this is the only book on here except for a couple of book posts that I wrote. I purchased 2 new plugins for reading books that go together. I had used one of them before but had stopped for a while. The one I had been using was no longer being updated with my current version of WordPress, so I decided to go back to the one I used before. I then found another one that goes with the one I was planning on using again. Well, it has taken me a few days to find out how it all works, so I hope you all like the new format.
If you were wondering why you have not seen many book posts or other posts is because I am back to work which I have started last week. My daughter also had some health concerns a few weeks prior to that. It has just been a very busy time lately. I am on my 2nd full week back to work and have figured out my schedule for the most part. Life happens and it still may fluctuate, but you should see me on my blog a little more. Thanks for following!
EntreLeadership: This book tells everything you ever wanted to know about building and growing a business — but didn't know who to ask
This book is full of excellent examples and practical tips on entrepreneurship, hirings, and firings, and lots of leadership. It speaks right to the heart of business leaders, showing all the 'how-tos, ' and also the why.
Entrepreneurs are needed in America more than ever especially since COVID happened this year in 2020. There are more people working from home than ever before even though my main job is not one of them since I work at a school. I am an assistant so when schools go virtual I do not have any part in that scenario. If you are an entrepreneur there is a big difference between starting a company and being a leader for one. Dave talks about this in the book and he has figured out the recipe to be both things.
Dave Ramsey has taken commonsense leadership principles and made them uncommonly practical, useful, and life-changing. He has a straightforward and plain-talk approach that is very refreshing. His advice is very admirable and is not a bunch of leadership fluff, but it's solid and substantive.
It is really nice to read a book from someone who has some practical advice on running a business. The take-away from this book is extremely helpful. Relationships can be difficult and his advice is based on experience gives people going down this road some confidence in making decisions.
Lemons Life and Reading, owns all rights on their images and does not allow for its original recipes and photos to be reproduced elsewhere except on this site unless authorization is given. If you enjoyed the recipe and would like to publish on your own site, please re-write in your own words, and link back to my site and recipe page. Read my disclosure and copyright policy. This post may include affiliate links.