Unglued by Lysa TerKeurst | Book Review
Disclosure: This post may contain some affiliate links. This means if you click on a link and purchase the item, I will receive an affiliate commission. Regardless, I only recommend products or services I use personally and believe will add value to my readers. Thanks for your support! See my disclosure policy Here.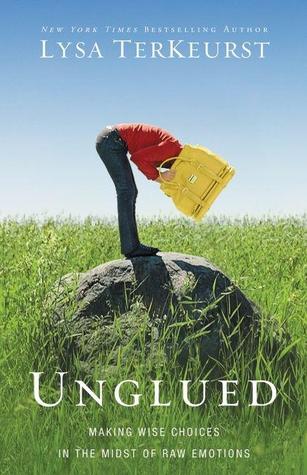 Unglued: Making Wise Choices in the Midst of Raw Emotions
by
Lysa TerKeurst
Published by
Zondervan
on August 7, 2012
Genres:
Christian
,
Faith
,
Nonfiction
Pages:
208
Goodreads
Bookhype
God gave us emotions to experience life, not destroy it! Lysa TerKeurst admits that she, like most women, has had experiences where others bump into her happy and she comes emotionally unglued. We stuff, we explode, or we react somewhere in between. What do we do with these raw emotions? Is it really possible to make emotions work for us instead of against us? Yes, and in her usual inspiring and practical way, Lysa will show you how. Filled with gut-honest personal examples and biblical teaching, Unglued will equip you to: Know with confidence how to resolve conflict in your important relationships. Find peace in your most difficult relationships as you learn to be honest but kind when offended. Identify what type of reactor you are and how to significantly improve your communication. Respond with no regrets by managing your tendencies to stuff, explode, or react somewhere in between. Gain a deep sense of calm by responding to situations out of your control without acting out of control.
Unglued: Making Wise Choices in the Midst of Raw Emotions
Book Review for Unglued by Lysa TerKeurst
First, let me say if you have been following my blog concerning books I have changed the way I am doing them. As of right now, this is the only book on here except for a couple of book posts that I wrote. I purchased 2 new plugins for reading books that go together. I had used one of them before but had stopped for a while. The one I had been using was no longer being updated with my current version of WordPress, so I decided to go back to the one I used before. I then found another one that goes with the one I was planning on using again. Well, it has taken me a few days to find out how it all works, so I hope you all like the new format.
I usually do not get to work this much on my blog because I work at a high school. As you know the world is in the COVID-19 pandemic right now, so I have been off of work since March 16th. I have not been worrying about the virus. Mostly, I am staying at home except for prescription or grocery errands. I occupy my time by working on this blog and decluttering my way overdue house. I praise God for the opportunity and that my family is healthy. My heart breaks at what has and is happening to everyone around the world, but we all need to stay home if we can so this virus can disappear or be contained. I believe God is using this to his advantage for people to slow down their busy lives, be in the bible more, and to be with family. I pray this will be over in God's Timing and that our lives will go back to a new normal. It will not be the old normal. I believe this is going to change our lives to be a little bit different going forward. This has got me thinking that I do want to retire as soon as possible. I will be 52 years old this summer, so I will be retiring as soon as I can from my regular work. I hope that you and your family are healthy and safe.
Unglued: Making Wise Choices In The Midst Of Raw Emotions — This is a self-help book to help you through life and to think about making wise choices. Every woman in this world has imperfect progress. We, as women think we lack control and sometimes destroy our relationships. I know we all experience short-temper, shame, fear, and frustration. The information this book gives us why we come Unglued is because we have bad emotions, we feel broken and very Unglued. I am sure we all have been on the receiving end of unglued behavior and to experience that painful sting of disrespect that makes you want to hurt the one who hurt you. You start thinking that the emotional demands keep coming, unrelenting security, wondering if anyone appreciates you. You feel tired, stressed, and hormonal plus wonders how this behavior can be fixed. Well, girls, we won't ever be fixed, but having the hope of imperfect progress does the body good. We all will still mess up and the changes wouldn't come instantly, but I believe we girls think if we don't make instant progress, then real change isn't coming. The beautiful reality is called Imperfect Progress, which this book helps you through.
Here is how it will work: Imperfect changes are slow steps of progress wrapped in grace…imperfect progress. Here is something the author wrote that you might want to write down to help you get through this imperfect progress through life.
Progress. Just make progress. It's okay to have setbacks and the need for do-overs. It's okay to draw a line in the sand and start over again — and again. Just make sure you're moving the line forward. Move forward. Take baby steps, but at least take steps that keep you from being stuck. Then change will come. And it will be good.
So, I say continue to read this entire book to help you have hope for imperfect progress. I know you will get there and this book will have some of your answers, probably not all the answers.
I read this book several years ago, but I am working on adding all books that I read with the yearly reading challenges that Goodreads does every year. I originally read this book with a bible study group back in 2013. It was a very awesome book to read. I will be putting the above message somewhere so I can remember this. Since it has been a while, I may read it again sometime. Lysa TerKeurst is one of my favorite Christian authors. This book gave you a way to make wise choices when you are in the season of not making wise choices.
To read reviews from other people who have read this book, click here.


We love hearing from you! Share your comments
Lemons Life and Reading, owns all rights on their images and does not allow for its original recipes and photos to be reproduced elsewhere except on this site unless authorization is given. If you enjoyed the recipe and would like to publish on your own site, please re-write in your own words, and link back to my site and recipe page. Read my disclosure and copyright policy. This post may include affiliate links.