30 Classic Christmas Movies to Watch this Holiday Season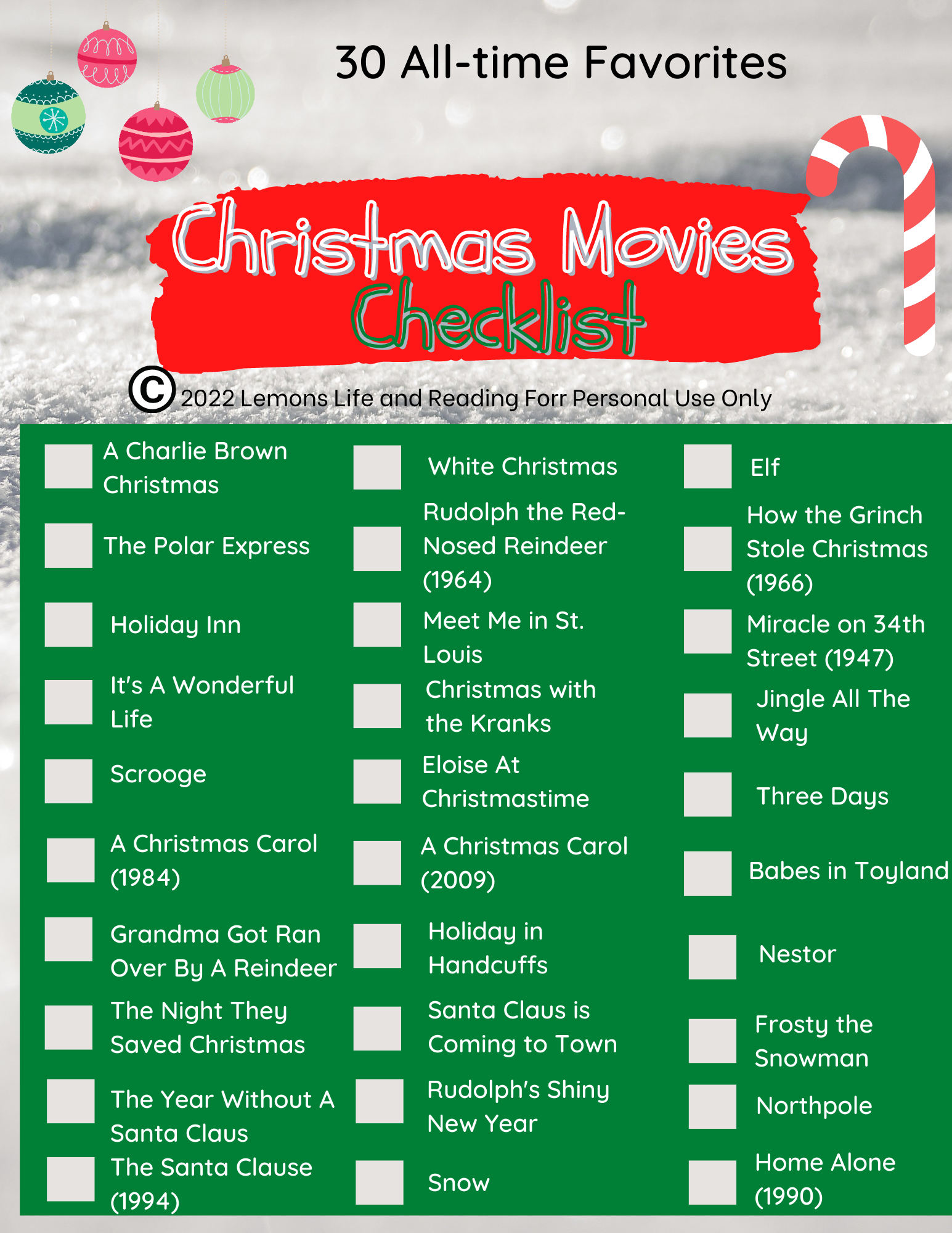 Disclosure: This post may contain some affiliate links. This means if you click on a link and purchase the item, I will receive an affiliate commission. Regardless, I only recommend products or services I use personally and believe will add value to my readers. Thanks for your support! See my disclosure policy Here.
There are so many options it is hard to decide what to choose!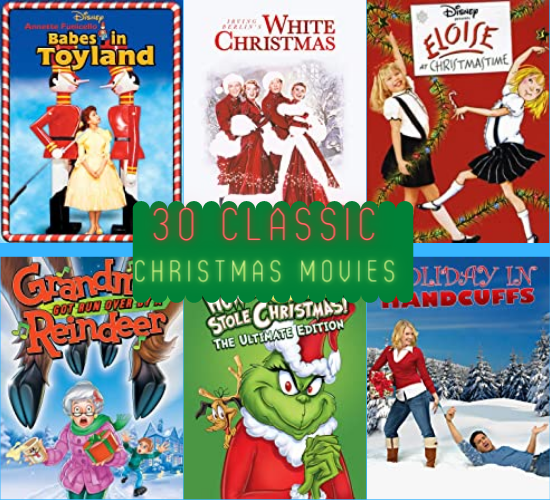 What's your favorite way to spend the holidays? There are countless ways to celebrate the season, from baking holiday goodies, seeing a Christmas light show, exchanging holiday gifts, listening to some Christmas songs. But nothing puts us in the best holiday spirit like watching our favorite classic Christmas movies plus all the movies on Hallmark, Great American Christmas, and Lifetime!
Did you know that now a days you can watch Christmas movies any time of the year if you desire? (Hey, Christmas in July is a thing!). But, I do not really watch much for Christmas in July as summer is pretty busy. I believe it is better to watch Christmas movies as the snow is falling outside, wrapping Christmas Gifts, or doing some holiday baking.
Some of the best Christmas movies of all time were released so long ago that they are only available in black and white — yet somehow, beloved films like It's a Wonderful Life, Miracle on 34th Street, and White Christmas never get old. Of course, there are other movies I just love including Home Alone, Harry Potter, Holiday in Handcuffs and The Santa Claus Movies. And let's not forget the charm of the classics that include Rudolph, the Red Nosed Reindeer, Frosty the Snowman, Santa Claus is Coming to Town, The Year Without a Santa Claus, and the hilarious funny movie Grandma Got Ran Over by a Reindeer.
This list of classic Christmas movies even include a few more modern releases, — even after a few years—it has become a Christmas Tradition for so many to watch them.
If you're a serious movie-watcher and after finishing all the Christmas Movies you want to watch, we suggest picking up a Christmas book to read. It's a great way to finish off the Christmas Season. I am currently reading a few Christmas books right now!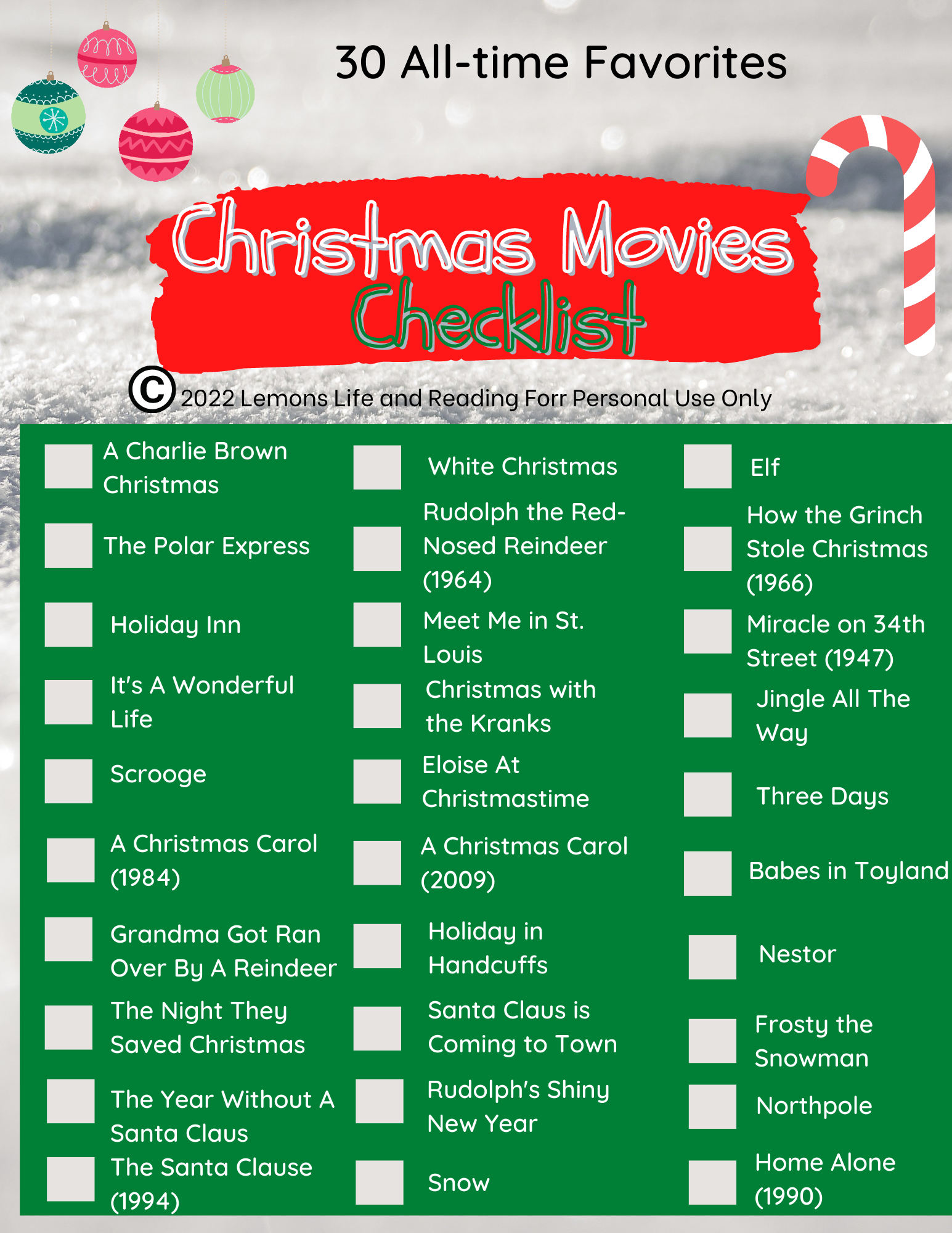 Click the above photo to print a pdf checklist!
Here are the movies I have seen so far this year 2022 Season:
(This will be updated throughout the holiday season and also updated if I watch a different movie that is not on this list) – That are more Traditional type Christmas shows! (Not Hallmark, Lifetime, or Great American Christmas)
White Christmas
Elf
The Polar Express
The Year Without A Santa Claus
The Santa Clause
Snow
Home Alone
Holiday Inn
One Magic Christmas
The Grinch Stole Christmas (2000)
Rudolph the Red-Nosed Reindeer
It's A Wonderful Life
Grandma Got Ran Over By a Reindeer
Nestor
Santa Claus is coming to Town
Northpole
Here's the list of Christmas Movies to Watch
A Charlie Brown Christmas (1965)
Elf (2003)
The Polar Express (2004)
Rudolph the Red-Nosed Reindeer (1964)
How the Grinch Stole Christmas (1966)
Holiday Inn (1942)
Meet Me in St. Louis (1944)
Miracle on 34th Street (1947)
It's A Wonderful Life (1947)
Christmas with the Kranks (2004)
Jingle All The Way (1996)
Scrooge (1935)
Eloise At Christmastime (1997)
A Christmas Carol (1984)
A Christmas Carol (2009)
Babes In Toyland (1961)
Grandma Got Ran Over By A Reindeer (2000)
Nestor (1977)
The Night They Saved Christmas (1984)
Frosty the Snowman (1969)
The Year Without a Santa Claus (1974)
Rudolph's Shiny New Year (1976)
Northpole (2014)
The Santa Clause (1994)
Snow (2004)
Home Alone (1990)
Lemons Life and Reading, owns all rights on their images and does not allow for its original recipes and photos to be reproduced elsewhere except on this site unless authorization is given. If you enjoyed the recipe and would like to publish on your own site, please re-write in your own words, and link back to my site and recipe page. Read my disclosure and copyright policy. This post may include affiliate links.