How to Care for Peonies in the Spring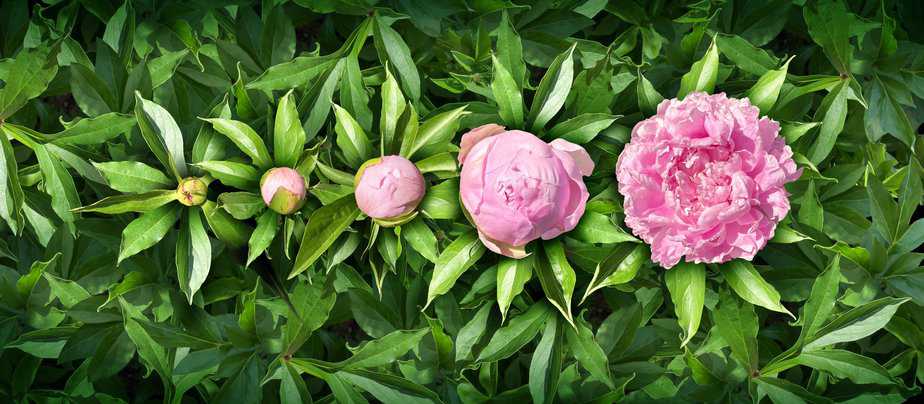 Disclosure: This post may contain some affiliate links. This means if you click on a link and purchase the item, I will receive an affiliate commission. Regardless, I only recommend products or services I use personally and believe will add value to my readers. Thanks for your support! See my disclosure policy Here.
Peonies are one of the most popular perennial flowers to add beauty to your yard or garden. These big, bold perennials are garden favorites for their delicate, fluffy blooms that appear in the spring. The peony is outrageously beautiful in bloom with the fattest, most scrumptious flowers and lush green foliage. Enjoy breathtaking flowers from spring to summer. Here are some tips on how to take care of your peony bush during the early growing season.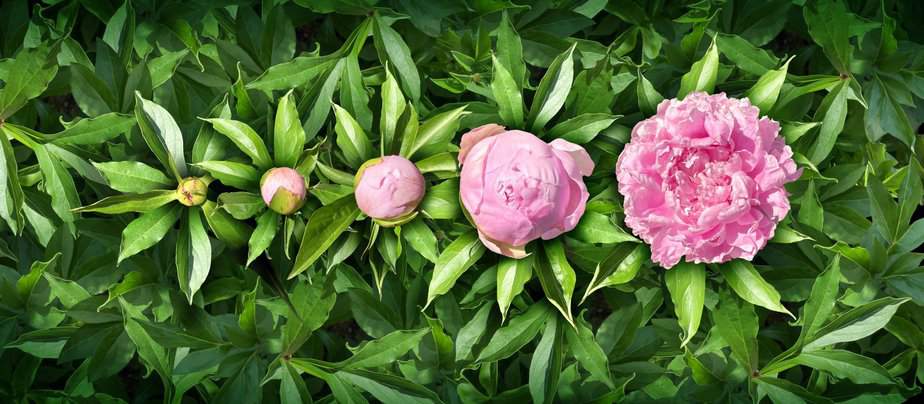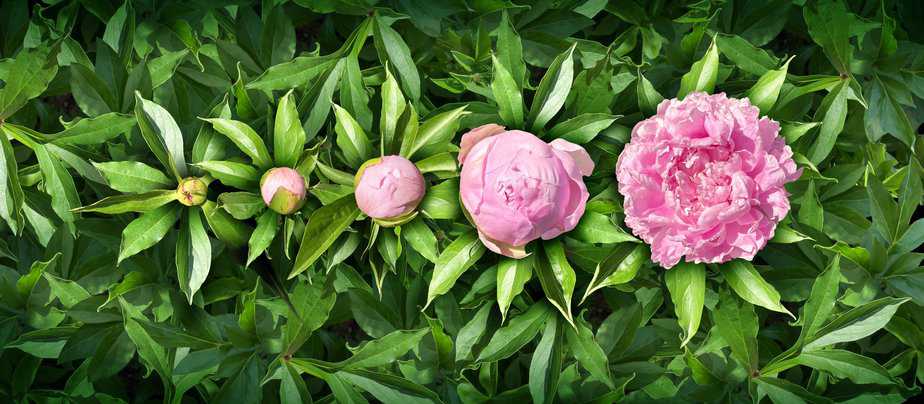 About Peonies
Peonies are perennials that come back every year to take your breath away. In fact, the plants may live longer than you do — some have been known to thrive for at least 100 years.
When Do Peonies Bloom?
Peonies bloom from late spring through early summer, depending on your location and the variety of peonies you're growing.
Many nurseries offer early, midseason, and late blooming varieties, making it possible for you to stretch out the peony season over many weeks and enjoy those lovely blooms for as long as possible!
Peonies are hardy to Zone 3 and grow well as far south as Zones 7 and 8. In most of the U.S., the rules for success are simple: provide full sun and well-drained soil.
Peonies even relish cold winters, because they need chilling for bud formation.
Types of Peonies
There are six peony flower types to choose from anemone, single, Japanese, semi-double, double, and bomb. Fragrances vary as well — some plants such as 'Festiva Maxima' and 'Duchesse de Nemours' have intoxicating rose-like scents while others are lemony or have no scent at all.
Tree Peonies: Tree Peonies, as the name suggests, grow from a trunk-like base which is also called deciduous peony. They are more expensive and grow slower but can eventually reach up to 5 feet tall. Tree Peonies also don't need any staking because their woody stems can withstand the weight of the huge flowers.
Herbaceous Peonies: Herbaceous Peonies are the most common in gardens, with hundreds of varieties to choose from. These varieties usually have scented flowers in shades of pink, red, and white. As the name suggests, herbaceous peonies don't form woody stems. Instead, the stems stay green and flexible, so they may need staking to keep them from flopping over, especially when the flowers get wet in the rain.
Itoh Peonies: The Itoh Peony, or intersectional peony is a hybrid of the first two types. These types of peonies offer more unusual colors, such as orange and yellow. They grow to a middle height between the garden and tree types, usually about 3 feet tall.
How to Prepare Your Peonies for Growth
Here are 6 ways to prepare your peony for growth in the spring.
1. Brush Off the Mulch and Debris
Brush off the mulch and debris from winter covering the emerging peony shoots. This will give your peonies maximum sunlight which will help them grow.
2. Clear the Weeds
Remove the weeds around the peony shoots. Spring weeds will sprout early. It's best to hand weed the areas around your peony. Avoid using herbicides, especially around the delicate peony crown and root zones. You can use a pre-emergent herbicide to control future weed growth.
3. Fertilize Your Peony
Most of my research states you do not need to fertilize your peony. So, I am going to just leave it as you do not. You may want to do your own research on this one.
4. Install Plant Support on Your Peony
This depends on the type of peony you have. Spring is a great time to install plant support on your peony plant. Peony flowers are heavy and there is tendency of flopping during bloom season. If you wait until bloom season to install plant support, it will be difficult to get the support installed because your peony will have grown too big. It's best to install peony rings and support in the spring when the peony plant is still small.
5. Avoid Stepping on Peony Shoots
Avoid stepping on peony shoots. If you have kids and pets, keep them away from emerging peony shoots. Stepping on peony shoots can easily kill your peony plant.
6. Maximize Sunlight
Peonies grow best in full sun locations so you should do everything to maximize the sun for your peony plant. Check the surrounding area around your peony. If there are tree branches casting a shadow over your peony, have the branch trimmed? Do everything to maximize the sunlight reaching your peony plant.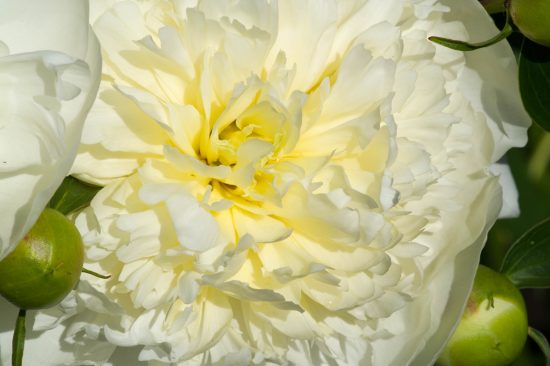 Are Peonies Easy to Care for?
Peonies live for a long time, living up to a hundred years, and are otherwise easy to care for.
Peonies are generally tolerant of cold winters and strong winds. They actually need a few weeks of cold soil to help prepare them for the growing season.
They hold up well to being transplanted and can even be divided and replanted every few years to keep them looking their best.
You should plant the peony roots close to the soil surface so they can get adequately chilled during the winter months.
The biggest issue with peonies is powdery mildew, which is easy to treat with potassium bicarbonate.
When should you plant peonies?
New plants should be planted in the early fall, about 6 weeks before the first frost. This gives the roots time to establish themselves before winter sets in and the ground freezes.
When planting peonies from seed, plant them in the fall as well. Peonies can take up to 3 years for peonies to bloom from seed, so be patient!
Even if you plant bare-root plants, the first year won't produce many blooms. The following spring is when you will get to see the plant in all of its glory.
If you split or relocate your herbaceous peony, it should be planted at the same depth as it was growing in its previous pot or bed. That way the eyes, or growing buds, will be at the correct depth for best results.
How do you care for Peonies in Spring?
Check your peony plants in early spring for any signs of fungal disease. Peonies are susceptible to a few different types of fungi, including botrytis and crown rot. These diseases can be fatal to your plant, so it is important to catch them early.
In late spring, as the weather begins to warm up, keep an eye out for strong winds. Peonies have large, heavy flowers, and strong winds can damage them. If you live in an area that is prone to high winds, you may want to give your plant support with stakes.
In early summer, as the flowers start to bloom, be sure to deadhead them. Deadheading is the process of removing spent flowers from the plant.
This will encourage new growth and prevent the plant from going into seed.
Garden Design Suggestions
Plant peonies with Shasta daisies, iris, baby's breath, or flax.
Plant them in mixed borders for color and texture.
Use peonies as a low, informal hedge.
Plant tree peonies along a walkway or porch.
Peonies make excellent cut flowers. They're popular in bridal bouquets or as an informal arrangement in a jar on your kitchen table.
Pin this post to read later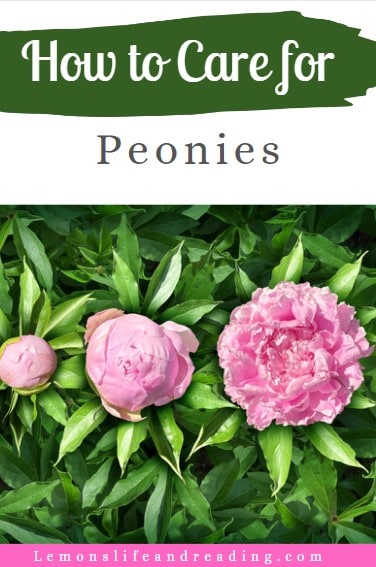 Lemons Life and Reading, owns all rights on their images and does not allow for its original recipes and photos to be reproduced elsewhere except on this site unless authorization is given. If you enjoyed the recipe and would like to publish on your own site, please re-write in your own words, and link back to my site and recipe page. Read my disclosure and copyright policy. This post may include affiliate links.