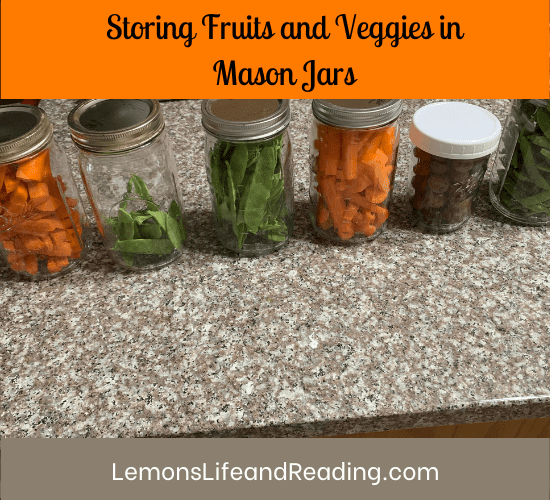 Disclosure: This post may contain some affiliate links. This means if you click on a link and purchase the item, I will receive an affiliate commission. Regardless, I only recommend products or services I use personally and believe will add value to my readers. Thanks for your support! See my disclosure policy Here.
Storing Fruits and Veggies in Mason Jars to keep Fresh and Crisp Longer
Storing Fruits and Veggies in Mason Jars — Have you always wondered that there has to be a better way to store your fresh produce? It never fails that every time you purchase fruits or veggies and have a plan for them, well life throws you a curve of being busy. Then, after the busyness, you decide you want to make whatever item it is and now you can't because the fruits or veggies are now bad, and needs to be thrown out now.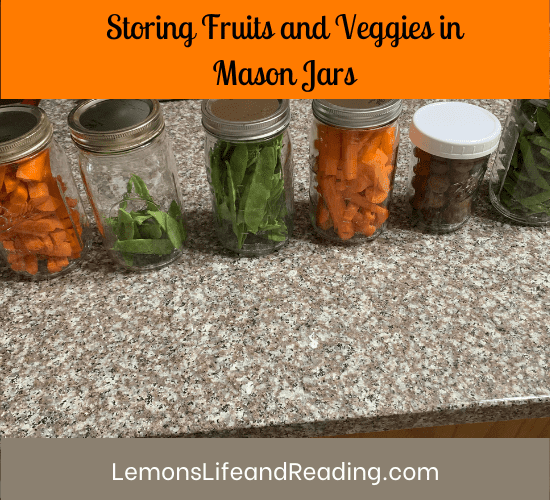 So, how do you keep fruits and veggies fresh and crisp longer?
Spring is just starting and Summer will be here before we know it. Then, we will be buying fresh fruit and vegetables at grocery stores and farmer's markets' plus maybe growing them in our own gardens. You buy strawberries or blueberries at the store, place them in your fridge, and guess what a few days later they are squishy, yucky, and moldy. Now they are ready for a Science project! Of course, vegetables can also go bad just the same. Again and again, I have this problem and never had the solution till I came across other posts about keeping produce longer by storing it in mason jars.
Glass jars are amazing for storing produce; I can't believe I didn't discover this method years ago. I always brought them home from the store and kept them in the bags or containers they came in to store them. The problem with these containers is they let in air and bacteria which starts the decomposition process. Using an airtight lid with glass jars minimizes the problem.
Because I consume lots of produce during the summer, I want to teach you the method on how to properly store carrots, celery, sugar snap peas, bell peppers, cucumbers, grapes, strawberries and blueberries, so they stay fresher longer!
Some Good Reasons to use Mason Jars
Keep it fresh:

These mason jars actually keep the food fresh for longer. I had no idea until I saw some blog posts regarding keeping your produce in the jars. I tried it and it works great! It definitely does last longer.

Versatile time-saver:

You can use this idea for fruits and veggies. I peel and cut up carrots and put them in the jars, as I do not really like bagged baby carrots. I buy the whole carrots. I have also cut up celery and also put sugar snap peas in there. I am wanting to try strawberries and some fruit in there as well. The only fruit I have tried was grapes. This makes snack time easier or when you just want to be able to grab something healthy.

Limits Junk:

The way it limits junk food is the healthy veggies are already prepared and you can just grab some to eat like you do other types of snack foods. I feel that using mason jars saves you time and money. This way also is great because there is a healthy snack ready to go at all times.
The Way to get it Done
Step 1: Wash your fruits and veggies really well. I put them in a colander in the sink and use my sprayer to rinse off the fruits and veggies.
Step 2: Cut & Choose what produce you are going to keep in your mason jars. This is the time to slice bell peppers, remove stems from berries or cut up, and take grapes off of their stems, and this is very important to remove any fruit that is either mushy, moldy or bruised in any way from the bunch. You can be very picky here because if they aren't fresh they won't get any fresher in the jars.
Step 3: You let your produce dry really well. This means I let them sit out for a few hours on the counter to dry. You can use a paper towel on the counter or use a cooling grid with a drying mat underneath. I do this both ways depending on how much room I need. I recently just read that the above method isn't the best for your carrots and celery. You should store them in a water bath. This does make sense especially on the carrots they can get pretty dry. This year, I will be doing the water bath. I just recently do some celery and it is working pretty well. You need to change the water every few days though up to about a week. Carrots may keep a little longer.
Step 4: Now it is time to put your produce in your mason jars. You need to make sure the mason jars are the wide-mouth glass jars. I use mostly the 32 oz. ones, but I do have a few that are the 16 oz. jars. It is totally up to you here! I started out with the metal lids, but it is a pain to have to take out both parts to get to your fruits and veggies, so I purchase some white lids for mine and replaced them. They are easier to clean and no rust. If you see condensation in the jar, you can add a paper towel to absorb some of the moisture.
Step 5: Store it by putting the fruits & veggies in sealed glass jars in the fridge. They will last twice as long as they would in plastic bags. But, they will not last that long because you will eat them before they have time to spoil since they are already prepared to eat.
Here is the produce I have tried so far:
Grapes – red

& green

Carrots & Celery – cut-up

and now will put them in a water bath

Sugar Snap Peas

Snow Peas
Others to try this year are:
Bell Peppers
Cucumbers – not sure if they will go in a Mason Jar or not, need to do some research on them.
Strawberries and blueberries
Maybe, some other types of produce
This year, I will be planting some of my own produce!
What kinds of fruits, berries, and veggies have you tried in mason jars? If not, what are you waiting for?
/
---
Share on Pinterest!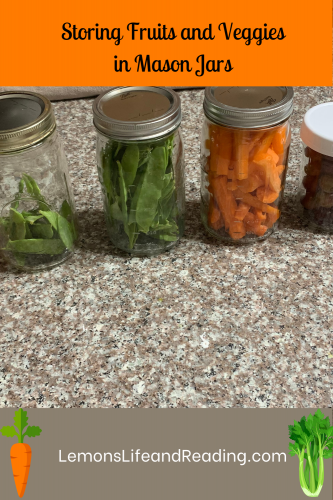 Lemons Life and Reading, owns all rights on their images and does not allow for its original recipes and photos to be reproduced elsewhere except on this site unless authorization is given. If you enjoyed the recipe and would like to publish on your own site, please re-write in your own words, and link back to my site and recipe page. Read my disclosure and copyright policy. This post may include affiliate links.