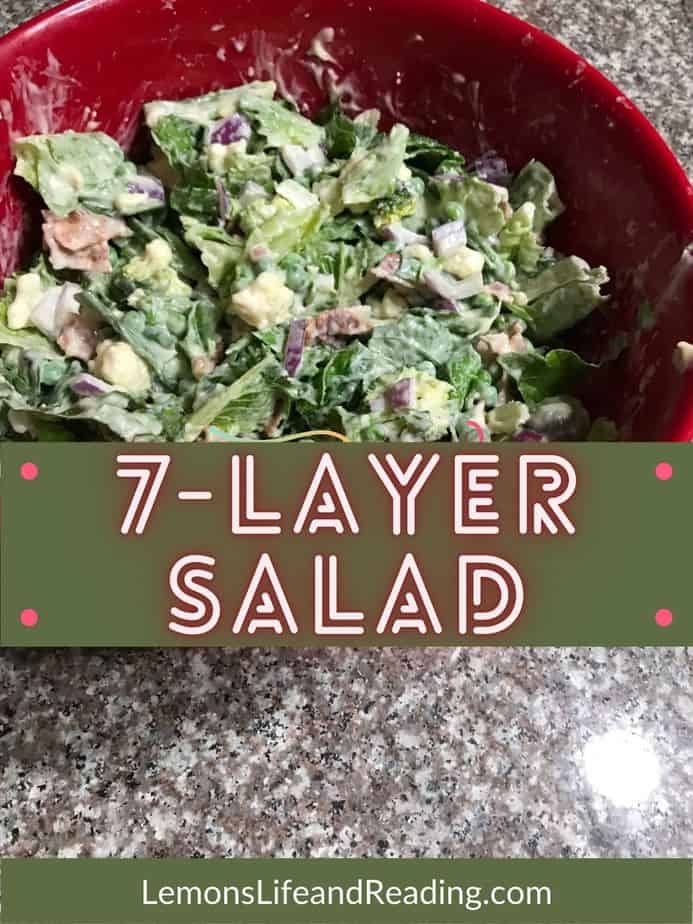 Disclosure: This post may contain some affiliate links. This means if you click on a link and purchase the item, I will receive an affiliate commission. Regardless, I only recommend products or services I use personally and believe will add value to my readers. Thanks for your support! See my disclosure policy Here.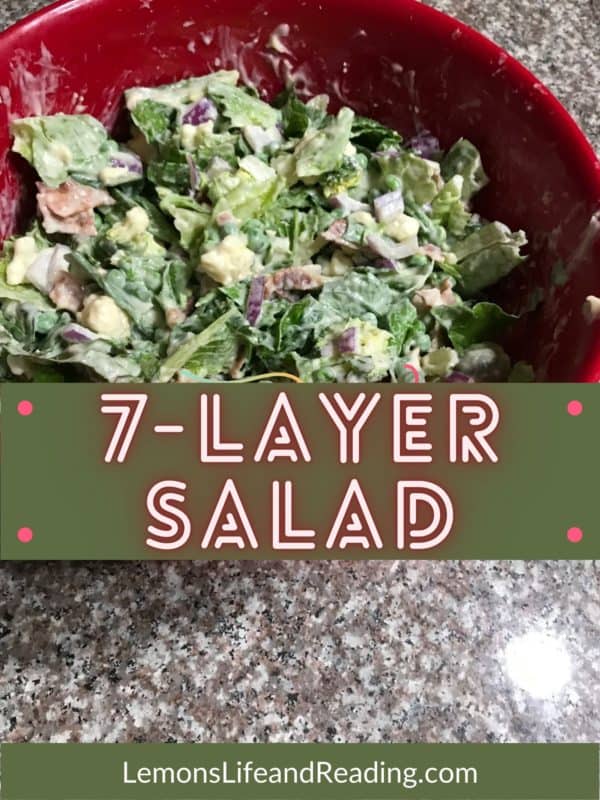 7-Layer Salad (Overnight Salad)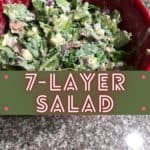 A layered colorful salad perfect for any occasion like potlucks, picnics, graduations, cook-outs. Make up to 24 hours ahead of time, then toss right before serving.
1 Head of Lettuce (dry & cut-up fine)
1 Small or Medium Bermuda Red Onion (Sliced very thin)
1 pkg Bacon (fried crisp, drained & crumpled)
1 Head of Cauliflower (small pieces)
1 bag Frozen Peas
Dressing
2 cups Real Mayonnaise
1/2 cup Parmesan Cheese, grated
1/4 cup Granulated Sugar
In a large mixing type bowl, layer the salad ingredients alternating them.

Combine the dressing ingredients in a separate bowl and mix well. Pour over the top of the layered salad. Sprinkle with salt & pepper.

Cover and refrigerate for up to 8 hours. Stir well just before serving.
This is a simple and beautiful salad with lots of vegetables for potlucks, cookouts, graduations, and picnics.  Our family even has it for holiday occasions.  You can even change up the ingredients according to your taste and what you have on hand in your fridge, and you can dress it up with fresh herbs if you desire.  You could even add spinach lettuce, hard-boiled eggs, grated cheese.
Lemons Life and Reading, owns all rights on their images and does not allow for its original recipes and photos to be reproduced elsewhere except on this site unless authorization is given. If you enjoyed the recipe and would like to publish on your own site, please re-write in your own words, and link back to my site and recipe page. Read my disclosure and copyright policy. This post may include affiliate links.