Disclosure: This post may contain some affiliate links. This means if you click on a link and purchase the item, I will receive an affiliate commission. Regardless, I only recommend products or services I use personally and believe will add value to my readers. Thanks for your support! See my disclosure policy Here.
Image Credits: Hallmark Channel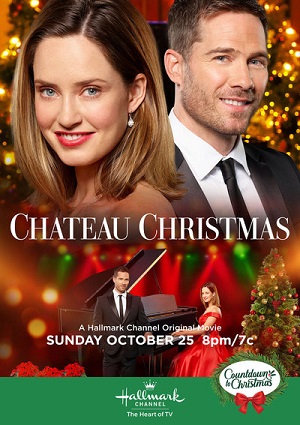 Movie Summary
World-renowned pianist Margot Hammond (Patterson) gets unexpected time off to spend Christmas with her family at their favorite hotel, Chateau Neuhaus. Having just received another stinging review, Margot is looking forward to spending time with her family and taking a break from music in hopes of rediscovering the passion in her playing. While there, however, she soon runs into her ex-boyfriend and former bandmate Jackson (Macfarlane), who convinces her to headline the chateau's sold-out, annual Christmas Concert. While working on the show, all of their feelings come flooding back and they are drawn to each other, but afraid of making the same mistakes. As the concert approaches, Margot and Jackson must learn that, whether in music or in love, the best will come if they listen to their hearts.
2022 Dates, Times, and Channels

7/29/22 – 10:00 PM on Hallmark Channel
This movie normally airs throughout the holiday season on the main Hallmark Channel. For more dates and times, please check back often as we will update when we can.
Year Released
2020
Cast Includes
Merritt Patterson

Luke Macfarlane

Jesse Hutch

Julia Benson

Jessica Sheen
Rate Movie
Movie Review
I like the actors in this movie as they are one of my favorites. I like most Hallmark Channel movies, but this one is not at the very top of my list. I just wasn't a big fan of this particular movies and I can't decide the exact reason why, but it did seemed slow and without lots of fun or spark. The only thing that saves this movies is the music, not much romance here.
Movie Trailer
You might also like:
Boyfriends of Christmas Past (2021)
Lemons Life and Reading, owns all rights on their images and does not allow for its original recipes and photos to be reproduced elsewhere except on this site unless authorization is given. If you enjoyed the recipe and would like to publish on your own site, please re-write in your own words, and link back to my site and recipe page. Read my disclosure and copyright policy. This post may include affiliate links.